Tomb of Wenzi 🤍 Zhongxian
Oct 2022
AMID TEARS - DMA MFA Fall Exhibition 2022
p5.js, L-system, evolutionary programming
This work provides a new interpretation of an old Chinese story about love between two young men, Pan Wenzi 潘文子 and Wang Zhongxian 王仲先, who were classmates.
A short version of the story was recorded in 978 C.E. in "Extensive Records of the Taiping Era 太平廣記." In the 1640s, about 660 years later, another writer, Tianran Chisou, expanded the story imaginatively, lengthening the original by 150 fold.
Today, in 2022, almost 380 years later, I am retelling the story once again, converted into a contemporary media art form.
The Story
Wenzi was youthful and good-looking. His contemporaries competed to admire him. Zhongxian heard about Wenzi's beauty and begged Wenzi to be his friend. Wenzi agreed because they were classmates. They fell in love with each other at the first sight. The emotional bond between them was so strong and they lived like a couple. Every night, they shared a quilt and a pillow. Their passions for each other were unbounded. Later, they died on the same day at a young age. Their families were sad and buried them in Luofu Mountain. Suddenly, a tree grew on top of their shared tomb. The leaves, branches, and twigs of the tree hug each other. Their contemporaries were amazed by the tree. They named it common pillow tree.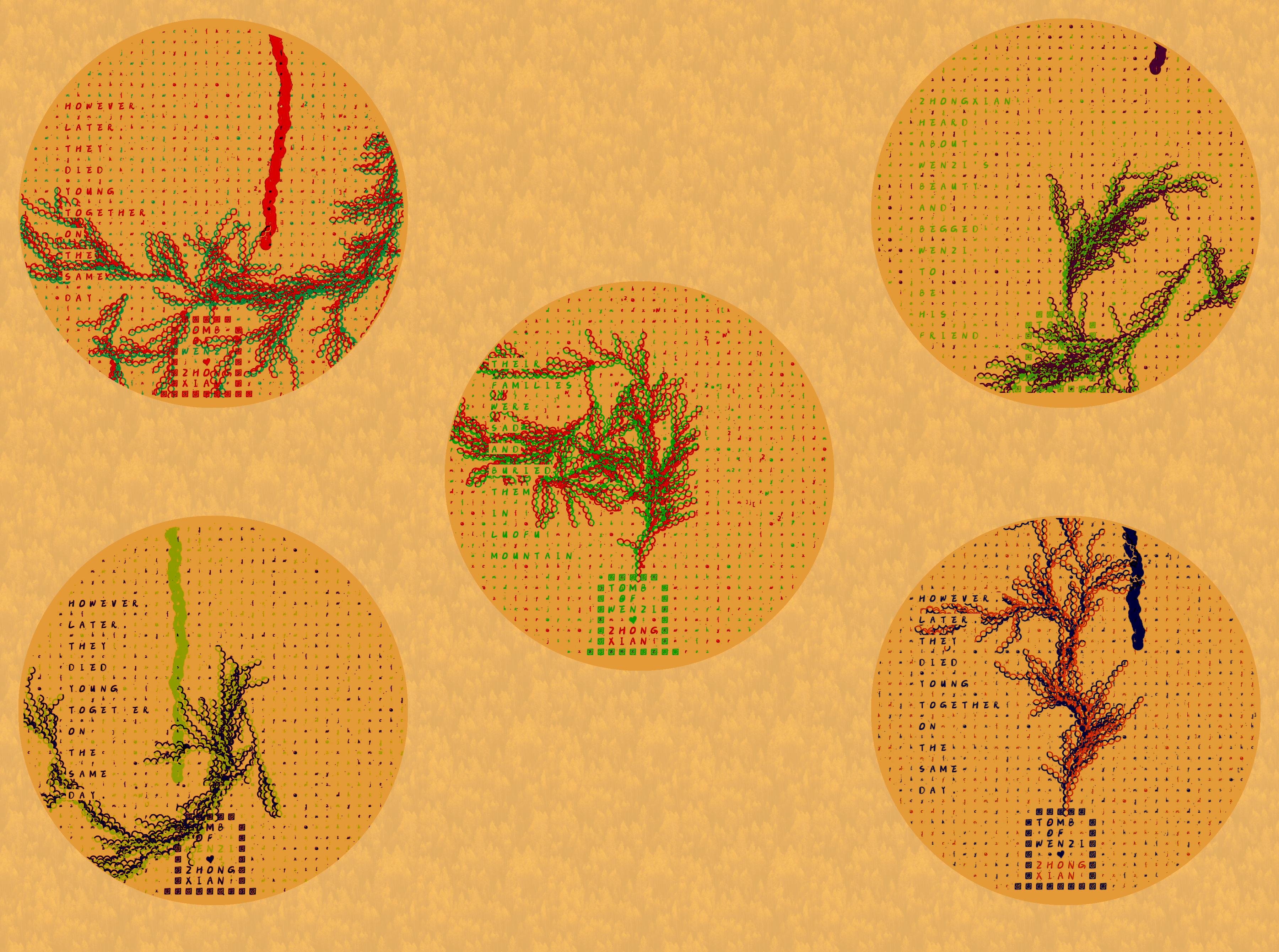 《太平廣記 • 潘章》
潘章少有美容儀,時人競慕之。楚國王仲先,聞其美名,故來求為友,章許之,因願同學。一見相愛,情若夫婦,便同衾共枕,交好無已。後同死,而家人哀之,因合葬于羅浮山。塚上忽生一樹,柯條枝葉,無不相抱。時人異之,號為共枕樹。